Vet Corps Navigator
The Vet Corps helps veterans and their family members achieve their higher education goals by:
Providing a peer connection/mentoring/support for veterans new to higher education.
Providing veterans with connections to federal, state, and local veteran's benefits
Provide training and support to college faculty, staff, and administrative to increase awareness of student veteran's needs
Jared Lee is your Vet Corps Navigator at WSU. Jared is a senior Computer Science major and a Marine Corps veteran. He can be reached at (509) 335‑1442, by email at vetcorps.navigator@wsu.edu, or by visiting his office, located within the WSU Student Veteran Center (Holland 120B).
ASWSU Student Veterans Committee
The Student Veterans Committee is a recognized committee of the Associate Student body of Washington State University. This committee is made up of veterans who have served in the Army, Air Force, Navy, Marine Corps, and Coast Guard. The Student Veterans Committee exists to raise awareness concerning veterans benefits, influence related veterans legislation, and form on-campus activities.
For additional information on upcoming events and on-going projects go on Facebook, call (509) 335‑1857 or visit us at the Student Veteran Center, Holland 120B. See you around campus!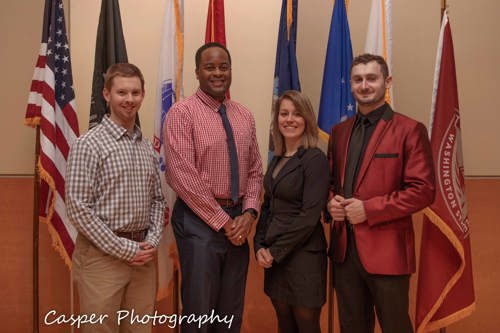 Meet the 2018/19 SVC Officers
Cody Hougnon - Secretary, Kyle Norbert - Chair, Shea Voss - Vice Chair, John Brown - Public Relations. (Not pictured - Jose Hernandez, Finance)